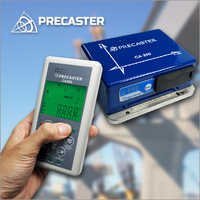 Electronic Digital Level
Product Description
CA200 | HIGH PRECISION ELECTRONIC LEVEL: WIRELESS ELECTRONIC HIGH ACCURACY DIGITAL LEVEL

SMOOTH AND USER FRIENDLY OPERATIONS | GRAPHIC DISPLAY WITH BRIGHT ILLUMINATION | POWERFUL WIRELESS DESIGN | IDEAL FOR HEAVY DUTY APPLICATIONS

Backed with standard certifications, we are able to provide a wide gamut of superior quality Electronic Digital Level. To manufacture this device at our well-equipped premises, our skilled professionals use the best grade components and contemporary techniques. Designed with user friendly interface, the offered device is widely cherished to be used for measuring the flow of fluids in food processing industry, oil refineries and chemical industry effortlessly. Additionally, the provided Electronic Digital Level can be bought from us at market leading prices.
SALIENT FEATURES:
COMPLETE FUNCTIONS, DESIGN FOR HEAVY DUTY:

CA200 has been set up with complete functions and included transition between mm and various per-meter as well as inch and various per-feet. Planned for heavy duty, it has display in three assorted digital. The integrated switch lies between X and Y axis. Matched level to another objects, it is all jointed in a simple receiver with high quality (0.005°) and has wireless action.
HIGHLY ACCURATE AND EASY MAINTENANCE:

Without troublesome operations the CA200 is extremely accurate (0.0050), enclosed with G-sensor technology, it gives a finer dependability than mechanical equipments. CA200 is simple to maintain and asks for just a 180 degree turn.
GRAPHICAL LCD DISPLAY, MINIMUN RESOLUTION IS 0.002:

CA200 has many display options for multiple desired requirements. Integrated with digital and graphical surface arrangement, the results can be read with more clarity and ease.
BEHOLD THE POWER OF WIRELESS:

CA200 is the basic electric level with wireless designing, which can assist in the measurement without any dragging. Supported with blue tooth 2.0, CA200 could be directed in 10 meter far. The best level with no wires is here, try CA200 and you will experience the most accurate results.
COMPLETE ACCESSORIES FOR MULTITASKS:

CA200 is merged with two accessories (elective), one of which is handhold mounted and assist in the installation for machines. Another one is bracket, which is utilized for H steel instalment and monitoring. We confidently assure you about the efficacy and handling of CA200.

APPLICATIONS:

CA200 has set up an absolute function included conversion between mm different per-meter and inch different per-feet. Three different digits for display, and switch between X and Y axis. Duplicate level to another object and all united in a simple receive with great accuracy (0.005°c), and wireless operation.
CA200 has a very high accuracy (0.0050). Embedded with G-sensor technology, it provide improved reliability than mechanical. The CA200 is easy to maintain as well, just with 180 degree turning. You can hold your CA200 like an expert.
It has multiple display choice for you, and you may choose whatever you want. With digital, graphical interface designing, you can read results clear & easily.
CA200 is the introductory electric level with wireless arrangement, which may help you in measuring without any dragging. With Bluetooth2.0 support, it can be operated from 10 meter far. Need a level with no wired? Go for CA200, you will experience that it is what you truly need.
CA200 has two optional accessories - One is hand-held mount for the machine install. And the other is bracket for effective installation & monitor. We believe when you work with it you will be amazed by the efficiency you have never thought.
ACCESSORIES:

Receiver (Master) | Sensor (Slaver) | Batteries | Power Adapotor | Connection Wire | PC Connection Wire | Carrying Case and Belt
WHY CHOOSE PRECASTER ?

High Quality | Made in Taiwan | Save Time | Eye Safe | Easy to Carry | Highly Efficient
CERTIFICATIONS:

1. CE 2. FCC 3. FDA 4. RoHS 5. REACH
TECHNICAL DETAILS:
Operation Range
10°c~10°c
Axis
X axis, Y axis
Resolution
0.002°, 0.01°, 0.1°, 1°
Repeatability
< 0.005°X (2´)
Absolute Accuracy (25°C)
< 0.01° (±3°) , < 0.04° (±10°)
Temperature Drifting
< 1'' /°C (0°), < 1.5'' /°C (±3°)
Response Time
< 2S
Operation Temperature
-10°C ~ +50°C
Storage Temperature
-20°C ~ +60°C
Weight
< 300g (including AA battery * 3)
Dimension
70*24*134 mm (Receiver)
Power Supply
Master (Receiver) : AA Battery * 3
Slave (Sensor) : DC 5V or AA Battery * 3
Range for Bluetooth
10m
Battery Life
Receiver > 8h, Sensor > 8h
Safety Instructions
RoHS Compliance, EU Instruction 91/338/EEC
EU Instruction 94/62/EC, WEEE for EU/EG/EE
Chinese RoHS. EMC for Receiver and Sensor
CE / EMI: EN61000-6-3/2007,
EN55022/2006 Group1 Class B
EMS: EN61000-6-2/2005,
IEC61000-4-2/2001 (static electricity)
IEC61000-4-3/2006 (Radiation of electromagnetism)
IEC61000-4-4/2004 (Burst)
IEC61000-4-6/2006 (Conducted Immunity)
IEC61000-4-8/2001 (Magnetic field) ,
FCC Part15-C Class A /2007
| | |
| --- | --- |
| FOB Price: | US $24 - 35 / Piece | Get Latest Price |
| Min.Order Quantity: | 200 Piece/Pieces sent the inquiry for me |
| Supply Ability: | 10000 Piece/Pieces per Year |
| Port: | Taichung |
| Payment Terms: | T/T,Payple |
Quick Details
Place of Origin: Taiwan
Brand Name: Precaster
Model Number: DM40
Measuring Range(m): 0.05m-40m
Measuring Range(ft): 131 ft
Accuracy: ±1.5 mm
Measuring Speed: 0.5 seconds
Laser Type: 650 nm, Class II, < 1 mw
Beam Size: 25 mm @ 30 m
Battery: 2 * AA Batteries
Battery Life: Up to 10,000 measures
Dimension: 114 * 47 * 32 mm
| | |
| --- | --- |
| Packaging Details | 20 pcs for one carton |
| Delivery Time | 45-60 days |